A Buyer's Guide to Streaming Data Integration For Google Cloud Platform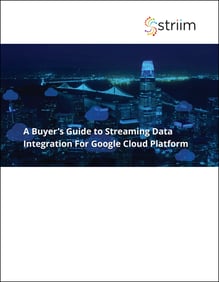 The move to Google Cloud is an attractive path for data modernization and for achieving a solid foundation for digital transformation. Streaming data integration allows you to run high-value workloads in the cloud and reap the full benefits of your cloud environment to improve your business operations and embrace innovation.
As with adopting any new technology, there is complexity in the move and a number of things to consider, especially when dealing with mission-critical systems. To ease your journey into streaming ETL to Google Cloud, we are offering this free eBook with an in-depth analysis of:
The game-changing trends of digital transformation and why it requires a new approach to data integration
How streaming data integration fits into your modern data architecture
How it provides business value and clear ROI with many use case examples.
Download this eBook today.