Striim, the provider of an enterprise-grade platform for streaming data integration, is pleased to offer you complimentary access to this Gartner report:
Cloud Architects
—

What They Do and Why You Need One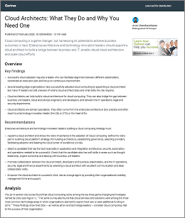 Cloud computing is a game-changing technology, but the journey to the cloud is not trivial. According to Gartner: "The organizations that achieve the greatest success with cloud computing create a cloud architect role, give the cloud architect formal accountability for cloud architecture and anoint them with leadership responsibilities within the organization."
In a recent report "Cloud Architects: What They Do and Why You Need One" (February 2020), Gartner provides detailed guidance on cloud architects' role and how they can build a bridge between business and IT, to set up a robust cloud architecture.
In this limited-time report offer from Striim, read about Gartner's in-depth analysis on cloud architects, including:
What Does a Cloud Architect Do?
How Do Cloud Architects Work With Other Roles?
What Range of Skills Does the Cloud Architect Require?
How Can You Get Started?
Download this complimentary report to support your cloud initiatives with expert guidance from Gartner.

Cloud Architects: What They Do and Why You Need One, Arun Chandrasekaran, 27 February 2020
GARTNER is a registered trademark and service mark of Gartner, Inc. and/or its affiliates in the U.S. and internationally, and is used herein with permission. All rights reserved.