Streaming Integration:
A Guide to Realizing the Value of Real-Time Data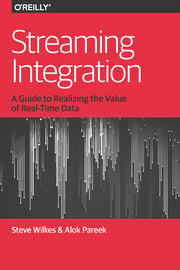 Data modernization is essential for businesses focused on optimizing operational efficiency, elevating customer experience, and gaining a competitive edge. But what is the best way to modernize the way you use and manage your data?

Authors Steve Wilkes and Alok Pareek detail how streaming integration provides a proven path to data modernization. This book delves into the importance of streaming integration to deriving value from real-time data to address real-world business challenges and garner immediate benefits, including:
Driving hybrid cloud adoption
Providing a platform for real-time applications
Enabling continuous data delivery for reporting and analytics
Powering online, zero-downtime data migration to the cloud
Collecting, aggregating and reacting to IoT data
Performing real-time machine learning predictions
Download this newly published O'Reilly book today.